Biography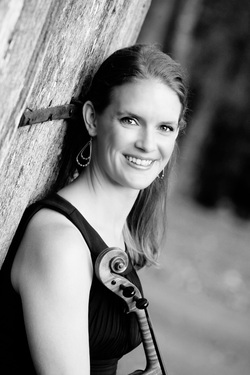 Photo Credit: Contrasts by Genelda
Violist Hillary Herndon has earned a national reputation for her brilliant playing, "sweetly soaring tone" (Time Out New York), creative programming and insightful teaching. She has been heard on NPR and PBS and has collaborated with some of the world's foremost artists, including Carol Wincenc, James VanDermark and Itzhak Perlman, who described Hillary as "having it all… a gifted teacher and an excellent musician."

Ms. Herndon is dedicated to expanding the repertoire for viola through commissions of new compositions as well as research, performance and advocacy of little known existing works. Her recitals often feature brand new or unknown repertoire alongside the standard canon. Herndon's first recording, "La Viola: Music for Viola and Piano by Women Composers of the 20th Century" received praise from all reviewers, including The International Record Guide, who called the CD "uncommonly interesting" and "strongly recommended."

With Clarinetist Jeremy Reynolds and Pianist Wei-Chun Bernadette Lo, Herndon has founded the Waldland Ensemble, a group committed to expanding the repertoire for clarinet, viola and piano works. In 2015, the group commissioned and premiered five new works from American Composers in Carnegie Hall. The group has performed through the US, Europe and in Africa and has released an album of their first round of commissions entitled "American Voices" on MSR Classics. Donald Rosenberg of Gramophone Magazine described the ensemble as "expert champions of repertoire they bring brilliantly to life."

A dedicated teacher, Ms. Herndon has a thriving studio at the University of Tennessee and has taught at the Sewanee, Montecito and Round Top Summer Music Festivals. She is the director and founder of the Annual UT Viola Celebration, an event that has involved hundreds of violists from across North America, as well as co-founder of the Viola Winter Intensive events with Kathryn Dey, George Taylor, and Juliet White-Smith. She has given given master classes at Juilliard, the International Viola Congress in New Zealand, Penn State University, the University of Michigan, Interlochen, Louisiana State University, Universidad EAFIT in Colombia and the Universidade Federal do Rio Grande Do Sul in Brazil, among others. Herndon's teaching articles have been published in the Journals of the American Viola Society and the American String Teacher Association.

Herndon is passionate about teaching outside the traditional studio; under the organization of Clarinets for Conservation, she has established Daraja Strings, the first ever string program in Moshi, Tanzania. In 2015, Herndon and three UT Music majors traveled to Moshi with 14 donated instruments to teach daily string lessons to Daraja String Students for six weeks. The program has continued to grow and now provides lessons and instruments to over 60 students in the Moshi region.

Ms. Herndon serves as President-Elect of the American Viola Society. She received her Masters Degree from the Juilliard School where she studied with Heidi Castleman, Hsin-Yun Huang and Misha Amory while serving as a Teaching Assistant to Ms. Castleman. She also holds a Bachelor's Degree from Eastman, where she studied with George Taylor and graduated with High Honors.


---