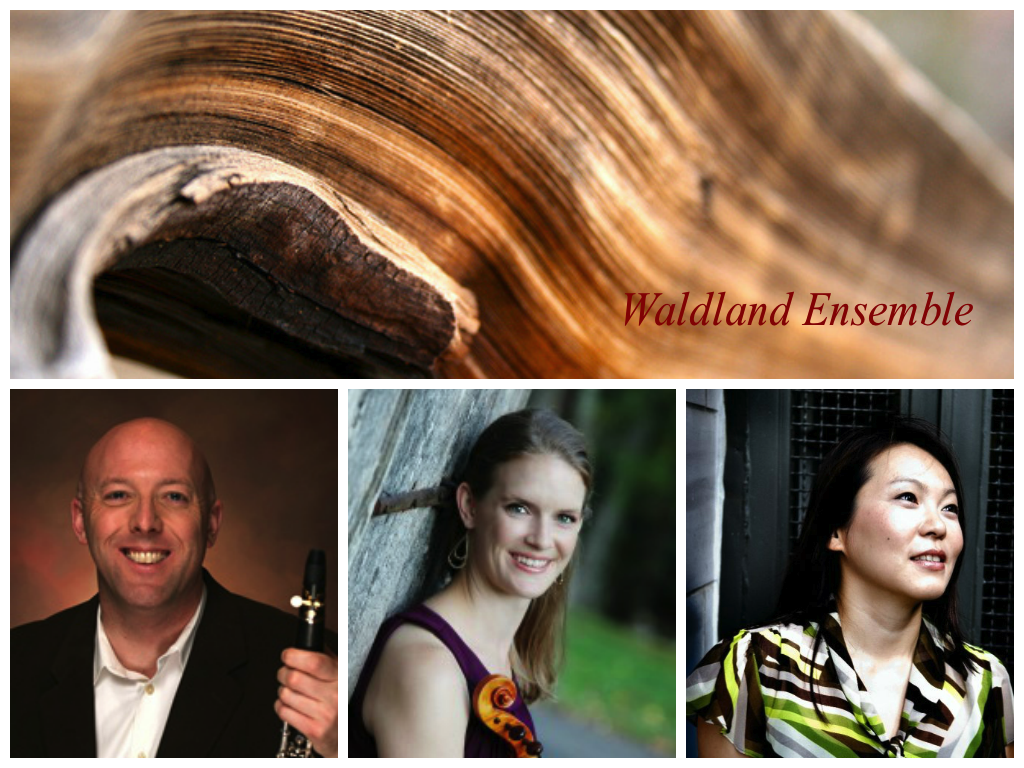 About

Formed in 2013, the Waldland Ensemble is passionate about expanding the repertoire for clarinet, viola and piano. Believing that music is a living and relevant art form, its mission is to commission and showcase new music by composers from multi-generations. The first tour of the Waldland Ensemble will feature newly commissioned works by composers Libby Larsen, Kenji Bunch, Michael Kimber, Anthony Constantino and Dana Wilson. As a result of its collaboration with the organization Clarinet for Conservation (C4C), the Waldland Ensemble also wishes to raise awareness and conservation policies through performances, and to educate the audience on the protection of natural resources. Its vision is that cutting edge contemporary music can not only inspire imagination of the audience, but also provide opportunity for musicians to participate in current events, and ultimately, to create a special experience that build community.

Bios

Violist Hillary Herndon has earned a national reputation for her brilliant playing, "sweetly soaring tone" (Time Out New York), creative programming and insightful teaching. She has been heard on NPR and PBS and has collaborated with some of the world's foremost artists, including Carol Wincenc, James VanDermark and Itzhak Perlman, who described Hillary as "having it all… a gifted teacher and an excellent musician." Ms. Herndon's fist recording, La Viola, a 2-cd set of works for viola written by women of the early 20th century is available on MSR Classics. Passionate about teaching, Ms. Herndon has published papers in the journals of the American String Teacher and American Viola Society Her recent appearances include performances and master classes at Carnegie Hall, the Sibelius Academy in Finland, Juilliard, Eastman, the University of Michigan, and the International Viola Congress. Ms. Herndon teaches at the Montecito Music Festival, the Viola Winter Intensive and at the University of Tennessee, where she is the founder of the annual Viola Celebration. Herndon holds degrees from the Eastman and Juilliard Schools of Music and serves as a Board Member for the American Viola Society.

Taiwanese pianist Bernadette Lo has become a much sought-after collaborative pianist, with extensive experience in both vocal and instrumental music. She has worked in the studios of such renowned artists as Carol Vaness, Cynthia Haymon and Martina Arroyo, and for several years has been an official accompanist for the Orpheus National Vocal Competition in Murfreesboro, Tennessee. She has been engaged by the Sugar Creek Festival, Opera Illinois, Illinois Opera Theatre and the University of Tennessee Opera Theatre, and most recently, Knoxville Opera. She has performed in recital with acclaimed instrumentalists such as Yuri Mazurkevich, Dale Clevenger and David Griffin (both of the Chicago Symphony Orchestra), Ronald Barron (of the Boston Symphony Orchestra) and flutist Tadeu Coelho. She has concertized nationally with violist Hillary Herndon, which whom she has recorded two compact discs of works featuring female composers such as Harrison, Decruck, Clarke, and others. She is regularly invited to collaborate with guest artists at the Tennessee Cello Workshop, Tennessee Viola Celebration and was one of three invited collaborative pianists to perform for the 41st International Horn Symposium. Dr. Lo holds degrees from the University of Illinois – Champaign-Urbana, and the Peabody Conservatory. She is currently Visiting Professor of Piano at the University of the South in Sewanee and Roane State Community College, Tennessee. Dr. Lo also serves on the faculty for Viola Winter Intensive in both Columbus, Ohio and Greenville, South Carolina and American Institute of Musical Studies in Graz, Austria.

Internationally renowned artist, Dr. Jeremy Reynolds joined the faculty of the University of Denver Lamont School of Music after performing as Principal Clarinetist with the Tucson Symphony Orchestra. In addition to his faculty position, he currently holds the position of Assistant Principal Clarinet with the Colorado Springs Philharmonic Orchestra. He has performed on five continents concertizing for the International Clarinet Association's ClarFest, Clarimania (Poland), ClariBogota (Colombia), Cultural Festival of Portugal's World Exposition, Australian Clarinet and Saxophone Festival, International Alliance for Women in Music, University of Oklahoma Clarinet Symposium, International Double Reed Society, National Flute Association, and the Great Southwest Flute Fest. Equally in demand in an orchestral setting, he has performed with the Colorado Symphony Orchestra, Colorado Music Festival, Des Moines Metro Opera, Hyogo Performing Arts Center Orchestra, New World Symphony, National Repertory Orchestra, National Orchestral Institute, and at the Aspen Music Festival. Reynolds also brings dynamic chamber music performances to the concert stage. He is currently a member of the Lamont Wind Quintet and The Agassiz Duo, a flute and clarinet ensemble. Reynolds has won awards at both the Coleman and Carmel National Chamber Music Competitions additionally collaborating with esteemed artists Itzhak Perlman, Don Weilerstein, Paul Katz, Ronald Leonard, Stefan Milenkovich, and Merry Peckham. As a passionate educator, Reynolds has been invited to teach in some of the world's most renowned music conservatories including the Versailles Conservatory of Music, Seoul National University, Sydney Conservatorium of Music, Escola Superior de Música de Catalunya and Conservatorio de Música de Murcia in Spain as well as Soochow University and Tainan University of the Arts in Taiwan. Reynolds is on the Artist/Faculty roster of the Bay View Music Festival and maintains an active schedule of presenting recital and master classes throughout the United States. Dr. Jeremy Reynolds is a Buffet Group Performing Artist/Clinician and Lomax Classic Mouthpiece Performing Artist.